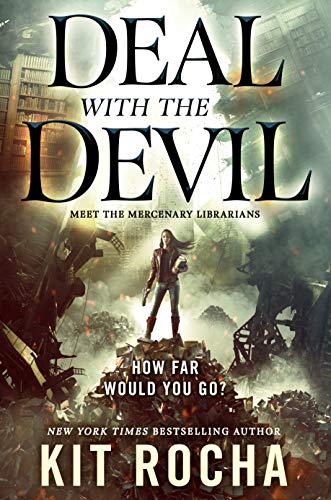 Deal with the Devil by Kit Rocha
A Mercenary Librarians Novel #1
Fantasy/Dystopian Romance
July 28, 2020 by Tor Books
ARC
Favorite Quote:
"They don't own you– that was a lesson I had to learn. They may have made you, but what you do with that will always be your choice.
Deal with the Devil is the first book in Kit Rocha's new Mercenary Librarians series. This is also their first book that I've read that wasn't self-published and when I tell you I had to practically beg for a copy, I'm not exaggerating. This book was one of my most anticipated of the year and I was willing to do almost anything for a copy. I wasn't sure what to expect, maybe less heat and more action and adventure. What I got was a sexy, badass, competency, road trip adventure. And I am here for it.
This is series is set in the same world as their Beyond and Gideon's Riders series', but it has a completely different feel. More fighting and a less loving, but it works for this group of protagonists. You can absolutely read this series as a stand-alone and not be lost. There are some elements that feel familiar, especially the cage fighting that happens in the middle of the road trip.
One thing that will always be the same, and one of the many reasons why I've always been a Kit Rocha fangirl, is how utterly competent and capable their characters are. It's so hot y'all. In Deal with the Devil, they introduce Nina, Dani, and Maya, three women who have extensive backstories that I'm sure will come out more as we get into this new series, but have escaped the various evil corporations experimenting on them and found each other. They live in Atlanta and have become essential to the community in which they live.
They are paired with a group of super-soldiers who have gone AWOL from the big, bad Protectorate. The only problem is that their biochemical enhancements are breaking down and slowing killing them. When one of their team, and the tech trying to help keep them alive, is kidnapped they are tasked with bringing in Nina by the kidnapper. But how do you kidnap a woman who can take out an army by herself? By giving her information on something she can't resist. The Rogue Library of Congress.
I have to say, this book was a joy to read. The worldbuilding has depth and felt fresh, despite my already being familiar with the previous series' set in this world. The characters are well-drawn and easy to fall in like or love with. I have some new favorites (Dani and Rafe) and a few I can't wait to find out more about. I like how there were little chapter breaks with what felt like peeks into the various characters' backstories. The action scenes are superbly written and kept me deeply engaged from the first page to the very last.
The romance between Nina and Knox is an instant attraction, yet slow build love story that really worked for me. It was fun watching them circle each other, two badass fighting machines who are suspicious, yet super attracted to one another. My favorite kind of couple. They have some very nice sexytimes too. (Thunderstorm loving!)
I think the authors did a fabulous job of setting the stage for the next books in the series. I can't wait to see if I'm right about future pairings. The epilogue has me pretty stoked for what is to come. Definitely recommend.
Final grade-B+