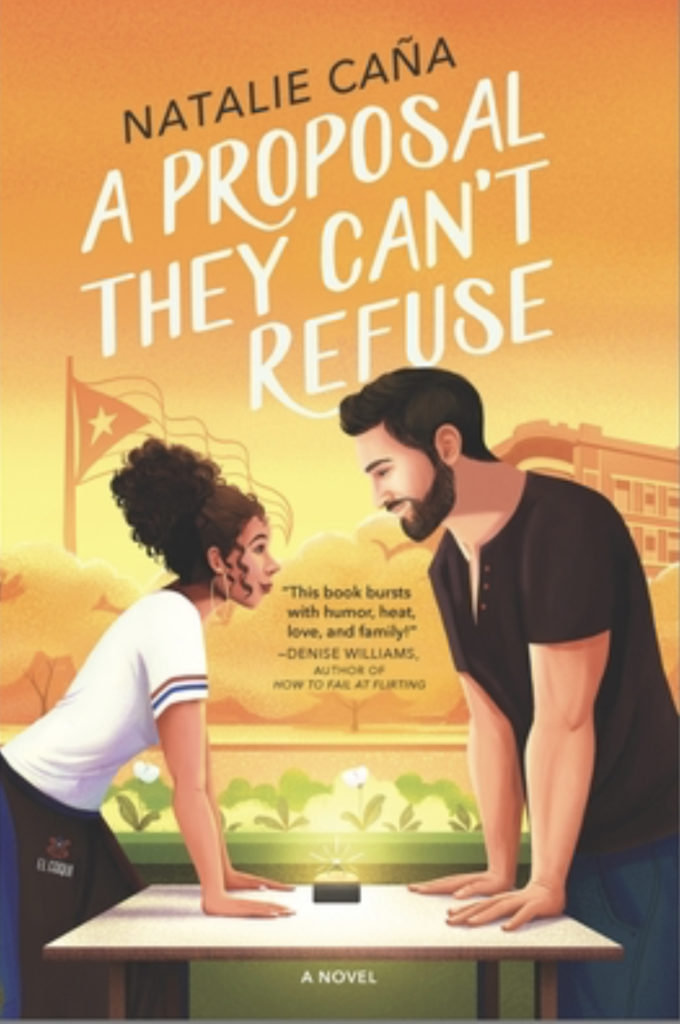 A Proposal They Can't Refuse by Natalie Caña
Contemporary Romance
June 7, 2022, by MIRA
Review by Melanie
This book had a lot of elements to it that I really love in a romance novel so it's absolutely no surprise to anyone that I adored this book.
Complicated family dynamics, meddling grandfathers, and two MCs with a boatload of history between them form the cornerstone of this book where a Puerto Rican chef and an Irish American whiskey distiller butt heads even as they try to work together to appease their grandfathers in order to save their respective family businesses.
Kamilah, the chef, is desperate to save her family's business. Problem is, her family won't listen to her, constantly dismissing her ideas and plans and accusing her of not having any follow through. When her grandfather offers to lend her support to make the changes she wants to make to give their family-owned restaurant a fighting chance of surviving in their gentrified neighborhood, she quickly jumps at the chance….even if it means pretending to be engaged to Liam Kane. 
Whiskey distiller Liam operates his family business in one half of the building, while the other half houses Kamilah's restaurant. Their grandfathers are best friends and troublemaking, meddling busybodies….and I absolutely loved them both. They both agree to support their grandchildren…so long as their grandchildren uphold their end of the bargain. And so suddenly, Kamilah and Liam, who used to be best friends until a personal tragedy in Liam's family caused him to pull away, have to pretend to not just be engaged, but move in together. 
If you enjoy big, complicated, messy families, you will love this book. If you thirst after grumpy, taciturn, awkward heroes who can unexpectedly deliver on the dirty talk, you will love this book. I adored the byplay between Liam and Kamilah, who had a lot of history and unresolved feelings between them. They both had a lot of baggage, Liam especially, and I liked that the book didn't just brush all of it under the rug but made them go through all their trauma and address it.
Kamilah has a habit of keeping secrets and making decisions for other people and she does it out of love but when the dark moment came, I was really glad to see that the people in her life who love her the most, called her out on it. There was one particular relationship in this book that fell apart due to the secrets she kept and the lies she told and it did not get resolved towards the end. I'm not sure if the author intends this to be a series but there are many side characters in this book who deserve their own stories and I hope one of them features the character who never resolved their issues with Kamilah.
Liam has his own baggage, including the death of his father in a drowning accident as well as learning early on in the book that his beloved grandfather has terminal liver cancer. Used to being left behind and abandoned, he struggles to accept his feelings for Kamilah despite having been in love with her for years. Being a man of few words, it's his actions that speak much louder and it's apparent to everyone, except Kamilah, just how much he loves her.
Also, I'm a sucker for competence porn and Liam and Kamilah are both just really good at what they do. In fact, in one particular scene, Kamilah finds herself inexplicably turned on when Liam takes her through the process of making whiskey.
Kamilah was frustrated. Sexually. Ever since she'd watched him, capable and intelligent in the distillery, proudly putting his skills on display in the hottest example of competence porn she'd ever witnessed, she wanted Liam with an intensity that was getting harder and harder to not act on.

He didn't seem to be feeling the same.
Except, much to Kamilah's ever-lasting delight, Liam very much does feel the same and the book's lone sex scene is a prime example that it's always the quiet ones you have to watch out for. Let's just say that Liam may not be the most talkative guy around but when it comes to letting Kamilah know exactly what he wants to do to her, he's quite the dirty talker.
Watching these two hard-headed and soft-hearted fools try to get out of their own way and fall in love with each other despite their best-laid plans was utterly charming and sweet. Yes, there was definitely a bit of angst and the epilogue is incredibly bittersweet and the dark moment is plenty dark but that makes the moment these two pull out the grand gestures for each other all the more sweeter. I was fully invested in these characters, in the progression of their relationship and I desperately hope the author makes this into a series because as I mentioned before, the side characters are equally interesting and I would love to catch up with the Vega and Kane families again.
Grade: A
Content Notes: on page terminal cancer diagnosis and eventual death of side character, off page parental death due to drowning, complicated family dynamics;