10. My Week – I decorated for Halloween! Are we getting ready? Do all the kids have costumes picked out? I have a seven year old who is obsessed with scary things and a five year old who cries if there is a mean looking pumpkin. I can't win. I did buy a plastic hand that crawls across the floor. I may have scarred my five year old for life. We'll see.

9. Fun news! USA Today has started a romance blog, Happy Ever After. It went live yesterday afternoon. I was asked to be a part of it and I couldn't be more excited. Joyce Lamb is in charge and there is a great group of authors and readers that will be contributing. (Including Lea and Mary G – who doesn't blog but comments here often!). I'll mostly be writing book reviews and I'll be able to post them to Smexy as well which will help me out – since I don't think I could add any more books to my schedule as it is:) And at Smexy I'm still able to include my naughty quotes and words, which I must do!
My first review for Animal Attraction by Jill Shalvis is up. So go check it out!
8. Damn, Lori Foster gets some hot covers. A Perfect Storm, book four in her Men that Walk the Edge of Honor series, comes out in April. Blurb:
Spencer Lark already knows too many secrets about Arizona Storm, including the nightmare she survived and her resulting trust issues. But in order to expose a smuggling ring—and continue avenging his own tragic past—the bounty hunter reluctantly agrees to make Arizona a decoy. Yet nothing has equipped him for her hypnotic blend of fragility and bravery, or for the protective instincts she stirs in him.
Arizona wants to reclaim her life, which means acting as bait to lure the enemy into a trap. Sure it's dangerous, especially with a partner as distractingly appealing as Spencer. But as their plan—and their chemistry—shifts into high gear, Arizona may discover there's an even greater risk in surrendering her heart to a hero…
7. Kresley Cole has just released the back cover blurb for Lothaire, which I think is my next most anticipated release. (followed by Lover Reborn). I've been dying for Lothaire's book since I read Dreams of a Dark Warrior. Here is the blurb (from her facebook page):
ALL FEAR THE ENEMY OF OLD
Driven by his insatiable need for revenge, Lothaire, the Lore's most ruthless vampire, plots to seize the Horde's crown. But bloodlust and torture have left him on the brink of madness—until he finds Elizabeth Peirce, the key to his victory. He captures the unique young mortal, intending to offer up her very soul in exchange for power, yet Elizabeth soothes his tormented mind and awakens within him emotions Lothaire believed he could no longer experience.
A DEADLY FORCE DWELLS WITHIN HER
Growing up in desperate poverty, Ellie Peirce yearned for a better life, never imagining she'd be convicted of murder—or that an evil immortal would abduct her from death row. But Lothaire is no savior, as he himself plans to sacrifice Ellie in one month's time. And yet the vampire seems to ache for her touch, showering her with wealth and sexual pleasure. In a bid to save her soul, Ellie surrenders her body to the wicked vampire, while vowing to protect her heart.
CENTURIES OF COLD INDIFFERENCE SHATTERED
Elizabeth tempts Lothaire beyond reason, as only his fated mate could. As the month draws to a close, he must choose between a millennia-old blood vendetta and his irresistible prisoner. Will Lothaire succumb to the miseries of his past . . . or risk everything for a future with her?
Zomg…the heroine is on death row!!! I'm so excited. I think the way Cole writes this paranormal world is so unique…and witty. Although not every book in this series is a favorite, overall I highly recommend them. Is it January yet?????
6. One last cover alert! If I Fall by Kate Noble. I love yellow on covers. And I love this author. She writes very sweet historical romances. Link to her books. Another one I can't wait for! Out in April.
5. A couple of book deals I've found this week:
The Hundred Thousand Kingdoms by N.K. Jemison, Fantasy is $2.99 Kindle, Nook
Cover Me by Catherine Mann, Romantic Suspense is $.89 Kindle
Wickedly Charming by Kristine Grayson, Paranormal Romance is free Kindle, Nook
This Fierce Splendor by Iris Johansen, A Loveswept Historical, is $1.99 Kindle, Nook
And as always, Dear Author has a weekly $2.99 and under round up HERE.
4. Pie Pops. Are they not the cutest thing ever? I've done cake pops (okay, my mom has done cake pops – but I've eaten them. Does that count?) But Pie Pops – they just scream fall! And I love pie so much more than cake. Found at Full Fork Ahead.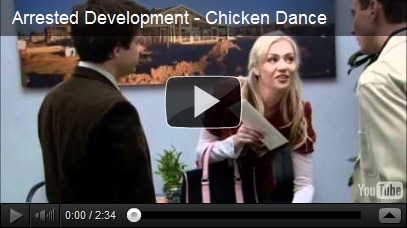 3. I'm obsessed with the show, Arrested Development, which went off the air several years ago. Since then, there have been rumors that there will be a movie. Now confirmed – they are bringing the show back for ten episodes, which will then lead into a movie in theaters. Ahh!! This show makes me laugh like nothing else. Period. Plus my hubs quotes lines from the show at least a dozen times a day. Every day. It's a good thing I think they are funny. ;) I leave you with their chicken dances.
2. Okay – so I've seen the word "Gandy" tweeted about often, but I didn't know what (or who) it was. Then I found out he was a male model – David Gandy but didn't google him as I should have. This week, Thea Harrison mentioned him in her guest post, so I started doing a little google image search. Sweet mama. Smexy and Gandy need some time to get to know each other. *waggles eyebrows* Check out this tumblr too.
You know you are hot when you look so very fine in undies and a furry hat.
I think he will be added to the side bar, stat. (And yes I know I'm SO very late to him)
1. Weekend – We are taking the boys to the Maryland State Renaissance Festival. We go every year and it is a lot of fun! I'm also reading Scandalous Desires by Elizabeth Hoyt. Her Maiden Lane series is so good!
Happy Friday!!